Membership
PJTC Membership
Not a PJTC Member…yet? Did you know your first fiscal year membership dues at PJTC are FREE!?
Check out our Member Benefits below, then scroll down or click to see Member Testimonials and Member Enrollment Information.
MEMBER BENEFITS
Pasadena Jewish Temple & Center is more than a synagogue. It is a home away from home. A place of personal and spiritual growth. A center for exploring your interests and building your community.
As a PJTC Member, you will have access to:
Shabbat and Jewish holiday worship services

Free High Holy Day service tickets

Youth activities hosted by our award-winning USY and Kadima programs

Sisterhood activities and community support

Men's Club activities and community support

Officiation, preparation, support, and guidance for your lifecycle events, such as B'nai Mitzvah, weddings, new births, and the death of loved ones

A Variety of special interest affiliate groups, such as Social Justice, Interfaith Study Group and Israeli Film Club

Center activities, such as cooking, juggling, meditation and basketball

Educational opportunities via speaking engagements, special learning events and ongoing courses

Opportunities to make a difference through social action and philanthropic activities centered around societal conditions and contemporary issues that need our attention and support

A social outlet and new friendships

Opportunities to deepen your connection to Judaism and your Jewish community
Click for more information about our spirituality, community programs and educational opportunities.
THINKING ABOUT BECOMING A PJTC MEMBER?
JUST LOOKING? Dip a toe in by joining us for an upcoming public event. Our Shabbat services are always open to our larger Jewish community, and we hold many educational, holiday and special interest events throughout the year that are open to both members and non-members. Check out our events calendar for details.
WANT TO KNOW MORE OF THE FINE PRINT? Click here to review our membership dues and assessments information.
UNSURE ABOUT THE FINANCIAL COMMITMENT? DON'T FRET! All new members receive the gift of free membership dues for their first fiscal year, and 50% off membership dues their second fiscal year. Yes! We are serious! It's a perk we provide to new members to allow them to experience the benefits of being a PJTC member without financial barriers...and we know once you become a part of our community, you'll want to stay. The only fee we require of new members is a Security Fee: $100/single, $200/family. Click here to fill our our online Gift Membership Form.
READY TO CHAT? Contact our Executive Director, Melissa Levy, with any questions or to start the membership enrollment process.
During the 50 plus years at our synagogue, we have had joy, sadness and illness while we have always had and felt our PJTC community there for us. Raising our family, we have recognized the importance of the wholesome values our children have gained growing up at PJTC. Participating in our synagogue has offered opportunities to search further into my Judaism, encourage growth in personal leadership skills, join a variety of activities and build long lasting friendships.
- Jan Pais
No matter what I've been through, people have always been there for me at PJTC. It's given me a safe haven, calms me and takes away the stressors of the world. I appreciate all of the memories I've made there...and th emany more that are to come.
- Anya Rose
PJTC offers a very welcoming environment. People from different backgrounds, different forms of Jewish practice, different family structures and different ways of identifying with Jewish traditions. It has given us a Jewish home and a Jewish community for ourselves and our children. A place for learning, a place for connection, and a place for our children to see themselves as part of a broader community.
- Meredith Rose & Diana Selig
We've always been welcomed with open arms at PJTC. When we think of PJTC, we think of home, we think of Jewish...we think of Jewish family. For us, PJTC has allowed us to live out our core beliefs and to live out our celebrations. it's where so much of our young family has matured and grown up.
- Seth & Hadar Cohen
The people at PJTC are my family. Being a member has given me a place to turn when I needed it. It is a community where I feel like I belong.
- Kathy Krasner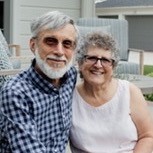 PJTC has become a part of what we do and who we are.
- Judy & Phil Callahan
PJTC gave my family a place to put down roots. We are all involved in each other's simchas, special events. And, it really does feel like an extended family.
- Jill Gold Wright
PJTC is an amazing community - a diverse people coming together. It's given me and my family a comfortable place to explore Judaism.
- Stacey Sharp
Pasadena Jewish Temple and Center is everything you'd want for a warm family. People reaching out when you need them to. People there to rejoice with you.
- Marcia Alper
Pasadena Jewish Temple and Center is the most welcoming place ever for people who are searchiing for their Jewish community and identity. When we found PJTC, we felt that we found our Jewish home.
- Stuart & Stacy Miller
It's our extended family. Our closest friends have been through our connection to PJTC. I can't think of any life event that hasn't involved PJTC in some form or another.
- Matt & Stacy Ober
PJTC is vibrant. It is home. Our kids have grown up there, and it really has become an integral part of who we are as people.
- Jennifer & Geoff DeBoskey
PJTC has helped me meet other Jewish teenagers and allowed me to construct my Jewish identity. It brings my family a lot of joy.
-Isaac Tragarz
PJTC helps you feel like you are part of a tradition. Like you are part of a long-standing community of Jews in the area.
-Vanessa Silverman & Joseph Widman
Mon, December 11 2023
28 Kislev 5784
Mon, December 11 2023 28 Kislev 5784